Oceanwide Hawai'i Projects Signed with Atlantis Resort
Datetime:2016-12-16
On December 15, 2016, Oceanwide Resort Paradise HI LLC (Oceanwide Hawai'i), a subsidiary of China Oceanwide Holdings Group Co., Ltd., entered into a management agreement with Kerzner International Holdings Limited (Kerzner), a leading international operator of ultra-luxury hotels, for introducing Atlantis hotel offering to Oceanwide Hawai'i Projects. As the first ever Atlantis resort signed in the United States, the oceanfront property will boost the competitiveness of Oceanwide Hawai'i Projects as major travel destinations.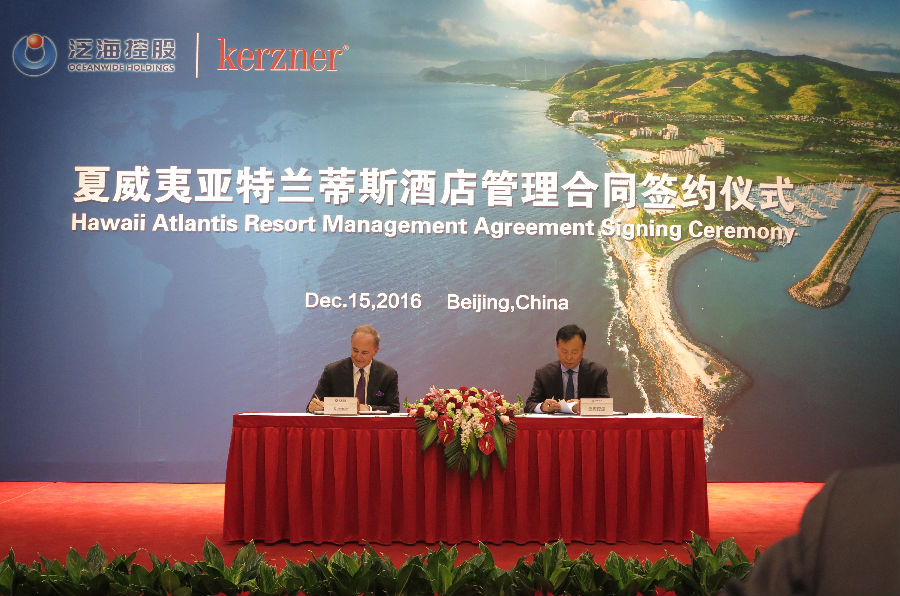 "Oceanwide is honored to partner with Kerzner in bringing one of the world's most prestigious and quality resorts – Atlantis – to the state of Hawai'i." said Steven Wang, Senior Vice President of Oceanwide Hawai'i. "The Atlantis project is the first of several major projects Oceanwide is introducing to Hawai'i. We believe strongly that Atlantis will greatly enhance the hotel popularity and appeal of Oceanwide, become the first choice for future tourists to Hawai'i, and make active, long-term contributions to the local community."
"Hawai'i Atlantis Resort is an iconic entertainment destination." commented Jean-Gabriel Peres, President and Chief Executive Officer of Kerzner International. "It is an incredible project with exceptional partnership with the world's famous and powerful group – Oceanwide. Atlantis will astonish and amaze, as well as celebrate the history and culture of Hawai'i. This unsurpassed location will provide endless wonders, with its magnificent sense of discovery, whilst also pioneering previously unseen experiences."
Hawai'i Atlantis Resort will epitomize contemporary elegance and celebrate the local natural and cultural elements of Hawai'i's environment. It will encompass over 100,000 square meters, offering approximately 800 luxurious guest rooms and suites, 524 residences and a variety of upscale, comfortable amenities for guests, including restaurants, bars, retail boutiques, a Beach Club, an indulgent spa, a cutting-edge fitness center, an aquarium, and a water park.
Atlantis Resorts are recognized globally as world-class integrated entertainment destination resorts, with the brand's flagship in Dubai – Atlantis, The Palm, and the new icon in China, Atlantis – Sanya Hainan, which will open in 2017, as well as The Royal Atlantis Resort & Residences in Dubai.
Focusing on the goal of building an "international enterprise group", China Oceanwide Holdings Group is pushing forward its strategy of going global, with real estate presence established in the most important cities of the United States, including Los Angeles, San Francisco, New York and Hawai'i. Oceanwide Plaza in Los Angeles, as Oceanwide's first project in the United States, commenced in March 2015. The San Francisco project was just launched last week (December 8). New York and Hawai'i projects are proceeding as planned. Oceanwide is committed to building these projects into local high-quality, iconic projects together with outstanding international partners, in order to enhance the international reputation and influence of the Oceanwide brand.