Construction of Oceanwide Center San Francisco Commences Reshaping the Pattern of the Core Area of San Francisco
Datetime:2016-12-09
A grand groundbreaking ceremony for Oceanwide Center, an Urban Complex based in San Francisco and developed by Oceanwide Holdings, was held on December 8, 2016. The attendees included the Mayor of San Francisco Edwin Mah Lee, Chinese Consul General in San Francisco Luo Linquan, Councilor of San Francisco Jane Kim, Chairman of Oceanwide Holdings Lu Zhiqiang, President of Oceanwide Holdings Han Xiaosheng, representatives from project partners and numerous media. It is the second complex built by Oceanwide in US, after Los Angeles Oceanwide Plaza. The project is mainly composed of two landmark buildings, covering diversified types of operation such as high-end apartments, super-large offices and public spaces and the luxurious Waldorf Astoria Hotel, which will change the skyline of San Francisco and create an amazing, comfortable and vigorous atmosphere. As the second tallest building in San Francisco upon completion, Oceanwide Center will change the pattern of the core area of downtown San Francisco and mark a milestone in building the core area into a 24h vigorous region.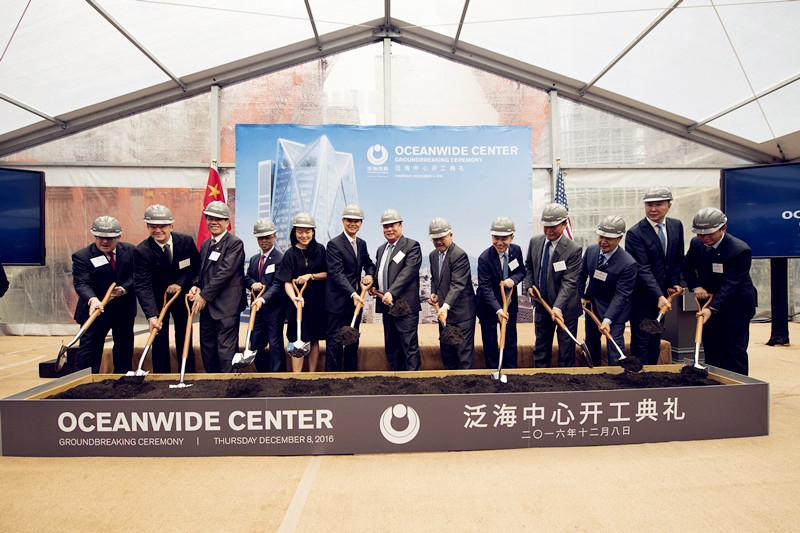 "It is not merely a new skyscraper; it also represents a new type of partnership," the Mayor of San Francisco Edwin Mah Lee commented in his speech. "The to-be second tallest building in San Francisco will provide more public spaces and more residences for our city, and make great contributions to San Francisco. In the past one and a half years, we have maintained good communications with owners and other organizations. We would like to extend congratulations to Oceanwide."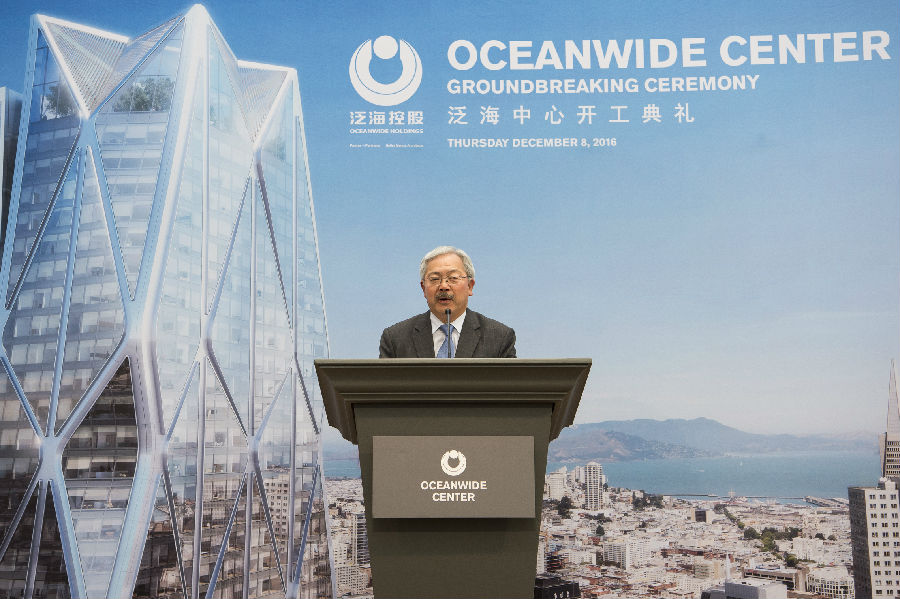 "As is known to all, San Francisco is a city popular for tourism, investment and innovation," Chinese Consul General in San Francisco Luo Linquan said in his speech. "Upon completion, Oceanwide Center will best display the prosperity of the city and its friendly relationship with China. Oceanwide Group is a famous Chinese real estate development group. I believe Oceanwide Center will surely become a new landmark in San Francisco and bring benefits to the local community with the professional experience, strict safety standards and quality control of Oceanwide Group."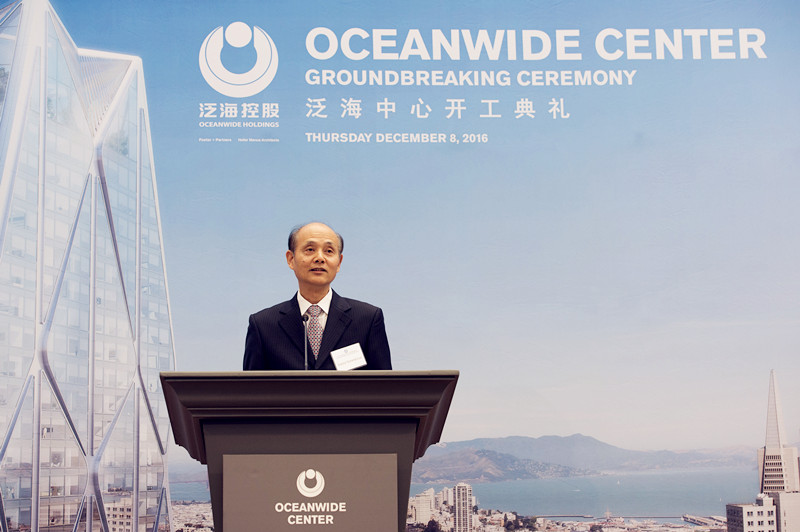 "December 8th is an exciting date to Oceanwide and San Francisco," Han Xiaosheng, President of Oceanwide Holdings said in his speech at the Groundbreaking Ceremony. "In recent years, San Francisco has maintained strong momentum of economic development and continuously optimized the investment environment. The commencement of Oceanwide Center today indicates Oceanwide has made an important step in its US long-term development strategy. The project will give continuous impetus to the future development of San Francisco. We extend sincere gratitude to San Francisco City Hall, Congress, community organizations and project partners for their support to Oceanwide, and we also expect that Oceanwide will build a proud project in San Francisco."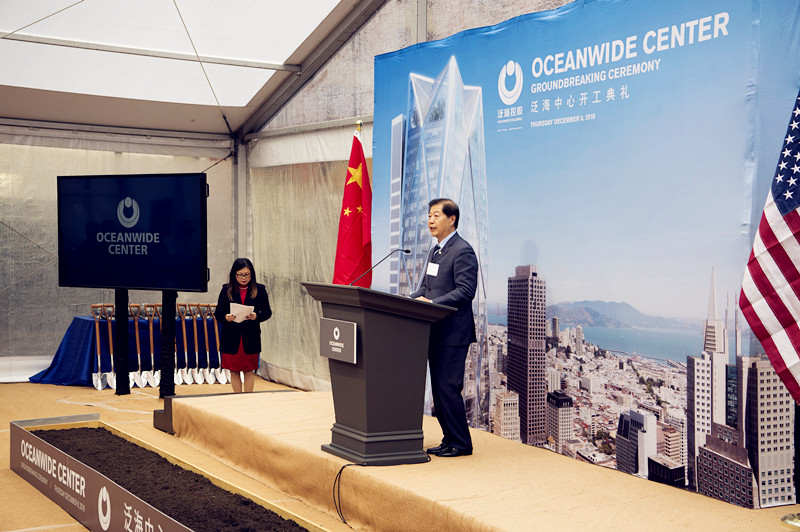 "I have always had a great fascination for San Francisco – a city with a youthful spirit has allowed it to constantly reinvent itself, yet retain a unique sense of urbanity," said Lord Foster, President and Founder, Foster + Partners. "The Oceanwide Center encapsulates that essence – it is a pioneering example that combines spaces to live and work with a vibrant public realm in the heart of the city."
"We are delighted that both the community of San Francisco and the developers of Oceanwide Center have placed their confidence in Waldorf Astoria," said John Vanderslice, global head, Waldorf Astoria Hotels & Resorts. "We look forward to welcoming our future guests with True Waldorf Service and delivering unforgettable experiences that can already be found at our 26 iconic hotels and resorts around the world."
Oceanwide Center covers a land area of 5,600m2 and a total construction area of around 224,000m2, including around 2,400m2 urban public space connected to the pedestrian street. The two towers of Oceanwide Center have their own distinct characteristics with concise design outline and elegant shape. The building facing First Street has 61 floors and a height of 277m. The design inspiration of the facade originates from the cutting planes of the diamond. Upon completion, it will become the second tallest building in San Francisco, reflecting the beautiful scenery of the urban skyline. With 54 floors and a height of 190m, the building facing Mission Street is designed with unique glass bay windows and classical stone facades. In addition, Oceanwide Center preserves the two historical buildings at the original sites. The previous resplendence of the two buildings will reappear after the repair of the unique facades, leaving an eternal historical memory to the city.
Oceanwide Center is mainly designed by two architecture firms, namely, Foster + Partners and Heller Manus Architects. Foster + Partners is headed by the British Pritzker-Prize-winning architect Lord Norman Foster, while Heller Manus Architects is directed by the prominent Jeffrey Heller who designed the third tallest building in San Francisco. The project is designed to achieve a LEED platinum rating and expected to be completed by 2021.
The project will increase local job opportunities and financial revenue, and give continuous impetus to the future development of San Francisco. Oceanwide will also allocate funds specially for public welfare activities and benefit programs in San Francisco, which will make huge contributions to the public benefits of San Francisco.
Starting from the real estate business and after 30 years' development, Oceanwide Holdings has accumulated rich experience in development, construction and commercial management, with its projects in Beijing, Wuhan, Shanghai, etc. famous for high quality. Oceanwide Holdings put forward the strategic transformation in 2014, and will further develop into an international enterprise group. Oceanwide's "going global" strategy also made its first step from the real estate sector.
Currently, Oceanwide has projects in the most important US cities along the western and eastern coasts including Los Angeles, San Francisco, New York and Hawaii. With several years of professional experience in domestic real estate development, Oceanwide hopes to popularize its management and business mode while developing real estate projects, and to build a reputation in the US market .